Last Updated on September 6, 2020 by Nick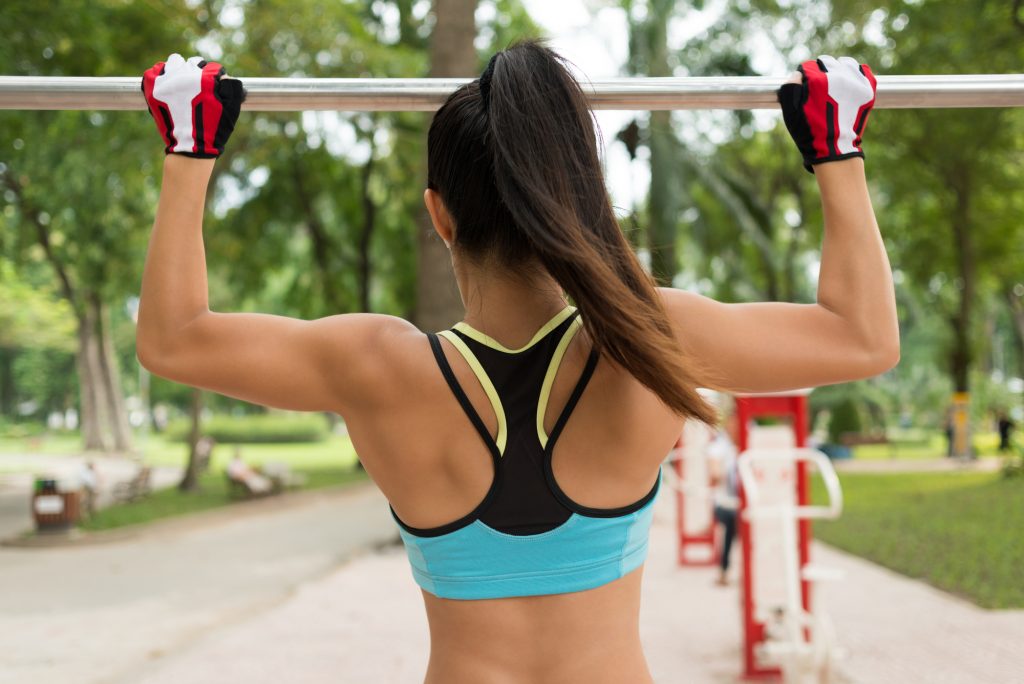 Looking to buy the best gloves for CrossFit that fit snug? You're in the right place.
In this buying guide, we pulled together a list of the most durable gloves designed to absorb chalk, reduce friction and optimize your grip and workout performance.
Besides, how many of you have been struggling to find a way to prevent calluses, rips, and tears and develop grip strength.
I know I have.
CrossFit can be brutal to your hands.
Ever heard of CrossFit badge of honor?
CrossFit badge of honor was a thing back in the day, it was an honor having trashed hands full with blisters, and wounds.
Now we are smarter than that, and we take care of our CrossFit hands. We use gloves, grips, and wrists wraps when doing our favorite WOD.
In a hurry? Scroll down to discover the best Gloves for CrossFit available at the moment.
Back in 2009 in the CrossFit Games, Mikko Salo won the 'Fittest Man on Earth.' After he completed the chest to bar Fran, he was asked: "Why don't you lie down to take a rest?"
He responded: "I once read an article about it. When animals surrender they go lying on their back. From then on I decided I would never go lying on my back. It's a sign of weakness and surrendering. I'm never lying on my back".
We all have different stories, but that's when I fall in love with CrossFit.
But my hands didn't. That's why I decided to get educated and get myself the proper hand gear.
1 Disclaimer: In the name of full transparency, please be aware that this blog post contains affiliate links and any purchases made through such links will result in a small commission for us (at no extra cost for you). Being a part of these affiliate sales networks makes it possible to fund our website. We only recommend products that our authors consider to be helpful and useful and we always have our readers' best interest at heart.
Should You Use CrossFit Gloves?
The short answer is, it depends. My answer is YES.
Let me explain.
The gloves debate has been going on for years in every single CrossFit Box. And not just in the US, but worldwide. The peak or the debate was around 2013.
Six years fast forward, CrossFit Community has become more friendly towards the importance and the necessity of wearing gloves to aid against hand tearing and skip WODs.
Gloves are a standard piece of gear among CrossFit beginners, elite Crossfitters and the CrossFit Games. In fact, the Reebok CrossFit Games Official Page is straightforward on this:
Athletes may wrap tape around the pull-up bar OR wear hand protection (gymnastics-style grips, gloves, etc.), but they may not tape the bar AND wear hand protection.  
Source: 2018 Standard For Hand Protection
Long past is the days when every CrossFitter was referring to the famous Arnold Schwarzenegger quote:
If you're going to wear gloves, make sure they match your purse.
We all love Arnie, but that time is over. Period.
However, if you are concerned about wearing gloves for greater comfort, better grip, and protect your hands there are of course pros and cons (more on that later).
At the end of the day, it all comes down to your personal choice.
What Type of Gloves Do You Need?
Three types: Fingerless or Full Hand Gloves, Athletics Grips and Wrist Wraps.
Sidenote: While the fingerless gloves offer better breathability and more natural grip than the full hand gloves, they just don't work for CrossFit. At least not for me. I end up with blisters and my hands are trashed. Besides, your fingers are still bare-skinned. But some CrossFitters find them useful, so it's up to you.
CrossFit Gloves Vs. CrossFit Grips Vs. CrossFit Wrist Wraps
Crossfit Gloves. CrossFit Gloves are a modified version of your regular work gloves, or better put, your baseball batting gloves. They protect your entire hand and sometimes come with built-in wrist support as well.
CrossFit Grips. CrossFit grips are CrossFit oriented gymnastic style grips that have two or three finger loops and wrist support. They support your palm and your wrists.
CrossFit Wrist Wraps. CrossFit Wrist Wraps are one and the same as powerlifting or weightlifting wrist wraps. Nothing more and nothing less. The primary purpose of using them is to provide wrist and joint support and to prevent a sprain injury under extreme heavy lifts.
When to Use Gloves
For the most part, you would need CrossFit Gloves when doing rope climbing, muscle up on rings, chin-ups, kettlebell training such as swings, snatches, and various AMRAP style exercises. Of course, as long as you find them comfortable. Yet, this is just a common practice, not a rule. Besides, they could be your best bud when the pull-up bar is freezing wet and slippery, or extremely hot and dry.
When to Use Grips
CrossFit Grips are most useful while doing pull-ups, kipping, toes to bar, bar muscle ups and any type of bar work. However, for some bar work gloves or just wristbands might be a better fit. Put them on and experiment until you find a winner.
When to Use Wrist Wraps
Using wrist wraps for CrossFit is somewhat limited to Olympic Lifting such as snatch, clean and jerk, sumo deadlift high Pull, weighted pull-ups, overhead squat, and bent over rows. That's probably the only workouts when you'll be using wrist wraps.
Top 5 CrossFit Gloves Product Reviews
Make sure you choose a model that's lightweight and robust enough. Skin tear happens because of friction, so firm grip and comfortable fit protects your hand and gives you the space to optimize your performance. Since this roundup is about finding the right gloves for your CrossFit experience, that will be our main focus from now on.
However, if you stick long enough (Hint: or just scroll), you can find our editor's pick for the best grips and wrist wraps as well.
So let's jump right to it.
Here's are the best 5 Gloves for CrossFit right now:
01. Mechanix Wear – Original Vent Covert Tactical Gloves
Mechanix Wear has been on the market for decades, so the quality of this brand speaks for itself. The Original Covert Tactical Gloves are lightweight, highly durable and agile. Black in color, designed with a synthetic leather material for a firm grip. Mechanix wear primary goal is to provide support and protection to your hands so they are an excellent fit for the CrossFitter concerned about wounds and hand injuries.
They are comfortable on hands, flexible and super thin. Finding the perfect fit is easy just by following the size chart. They come with adjustable thermoplastic rubber for wrist support and no-slip WODs. With an innovative vented system and mesh that delivers a good air flow distribution, having them on your hands gives you better breathability. That reduces sweaty hands and helps minimize developing calluses.
The Original Vent Gloves keep your hand cool on hot summer days and offer a decent protection when it's cold. These gloves are phone friendly and machine washable. The added nylon cord loop is a nice addition for storage and natural air drying after a long and intense CrossFit workout.
Check Prices and Product Reviews
02. Rogue Mechanix Vented Gloves 2.0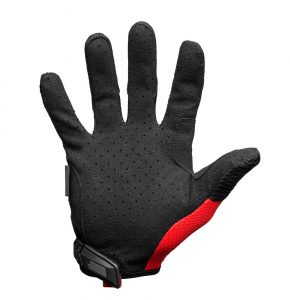 Image Source
Rogue is another well-known fitness company with a great hand care protection product line. The Rogue Mechanix Vented Gloves 2.0 are durable CrossFit gloves build to last, support and protect. Red and black in color, with a reinforced stitching and a padded synthetic leather material these pair of gloves offer a secure grip and a tight fit.
They are lightweight but yet slightly thicker compared to the Mechanix Wear tactical gloves. That makes Rogue gloves more comfortable for working out on a freezing pull up bar. These gloves are chalk friendly and as the name suggests they have a vented system built in. This system helps minimize heat and moisture and distribute fresh air throughout the mesh and the perforated palm. That increases the breathability and the ventilation while reducing the sweat.
Great for rope climbs, slides, and your daily bar or ring exercises. There's also an extra added layer of protection for your thumb and pinky. Rogue Gloves are touchscreen friendly. They are very flexible and comfortable, and they come in the various sizes from S-XXL. While made out of synthetic leather you probably don't want to use the washing machine but let them dry in open air. Besides, while these are vented gloves, they get soaking wet after intense workouts on a hot day.
Check Prices and Product Reviews
03. RockTape Talons Workout Glove
RockTape has been on the market since 2009, and if you haven't heard about their famous Rocktape Kinesiology Tape for Athletes, then you probably have been living under the rock. The company focus on selling protective fitness gear. That said, the RockTape Talons Workout Glove is primarily designed to protect your hands.
If safety and preventing calluses, blisters and trashed hands is your priority look no further. These gloves are constructed to reduce the palm and finger friction that happens during extreme CrossFit training. Promoted as the ultimate glove for barbell movements and repetitive pull-ups and WODs with a perfect firm grip, they do their best to stay ahead of the competition.
These gloves are highly durable made out of a combo of synthetic leather, microfiber, and silicone. The unique vented system offers breathability, and the added talons provide great comfort to your fingers. This great feature delivers a nonslip grip and fresh air circulation particularly when it gets sweaty and intense. Rock Tape Talons are also touch screen and chalk friendly. Being able to absorb the chalk is very important when doing CrossFit, specifically for CrossFitters that have more sweaty hands than the regular fellow.
But if you opt for one, regardless of the vented feature you are going to need chalk.
Check Prices and Product Reviews
04. Under Armour Men's Clean-Up VI Batting Gloves
Baseball Batting Gloves have always been a great inexpensive alternative to specifically designed CrossFit Gloves. In the early days of the CrossFit Games, Rebook rebranded the regular batting glove and made the Reebok CrossFit Glove. But that time is over. However, the idea yet lives.
Batting gloves work great for particular CrossFit exercises such as toes-to-bars, muscle-ups, clean and jerk, deadlifts and of course rope climbs. The Under Armour Batting Gloves are strong and sturdy, yet they lack the breathability features, and when it's hot, it gets sweaty and wet inside. They are thick, and your hands are jammed in there, so they fit snuggly.
These are heated gloves so if you live in some of the coldest states in the US and you want to keep your hands warm while doing your favorite WOD, and they could be a lifesaver. They do have palm and finger perforations for ventilation but since CrossFit requires a lot of functional training and you are on a clock don't count on that feature much.
Either way, if you plan to use the gloves occasionally or just want to get that extra hand support and protection from time to time, this might be the only pair of gloves you'll need.
Check Prices and Product Reviews
0.5 Bear KompleX 3
Bear KompleX 3 are not your regular CrossFit gloves but rather a CrossFit grips. Again this all comes down to how do you define gloves. Yet, since some CrossFitters prefer to use gymnastic grips and experience more natural grip while doing pull up bar or rings, we decided to add them to this list. The Bear Komplex Gymnastic Grips are currently one of the best CrossFit grips you can find on the market.
And this brand new company over delivers and it has been greatly accepted among the CrossFit Community. Bear Komplex 3 is designed with genuine leather and comes with three finger loopholes and a strong wrist wrap strap. This allows full palm and wrist protection. Also the flexibility and the firm grip has amazingly great friction resistance. This significantly reduces the development of calluses, skin tearing off your hands and keeps your palm healthy.
Build with extremely durable leather material this pair of grips gives you the opportunity to perform various gymnastic movements and all the regular WODs. Wearing these grips helps you enhance your performance. On top of that the Bear Komplex 3 are super thin with durable triple stitching reinforcement for a greater comfort and stability. Great piece of gear for doing chest to bar, muscle-ups, toes to bar, kettlebell swings, and snatches, as well of Olympic and powerlifting exercises.
Bottom line if you were looking for CrossFit grips instead of gloves, this is it. They also have a model with two finger loops instead of three, here's the link. Used by professional athletes, where grip, comfort and durability is all that matters, Bear Komplex 3 sure delivers on this front.
Check Prices and Product Reviews
Why Do You Need CrossFit Gloves?
If you are someone that still can't set up his mind, here are some beneficial factors to consider when it comes to wearing gloves and enhancing your CrossFit success:
Protection. CrossFit can be dangerous and brutal to your hands. I'm sure you've heard the phrase "CrossFit hands" before.  You can prevent palm and fingers injuries with a simple piece of gear such as the full-fingered gloves. Even if you are not a huge fan of wearing gloves, occasionally you'll be glad you have them in your WOD gear bag.
Support. While the primary benefit of wearing gloves is to protect your hands, they work great for wrist support and minimizing bar friction on your focal impact points, your palm, and fingers. Besides, some CrossFitters find them as a great mental performance booster. Just having them on could help you overcome that mental block and do the extra rep. Remember, CrossFit is all about AMRAP (as many reps as possible) and the ability to move quickly and easily.
Comfort. A good set of gloves should offer comfort, not the opposite way around. It's important to feel cozy wearing them. If you feel cramped doing rope climbs and slides, for example, that's probably because you either have the wrong size of gloves or they just don't deliver comfort. They should fit and grip well, offer breathability and jam into the pulling bar.
Optimize your Grip. First and foremost, get the basics right. You need to learn how to work on the bar movements bare-handed. Learn how to grip the bar, develop grip strength and then get yourself a pair of gloves. That way you can go to the next level and work on optimizing your grip and incorporate improvements for a higher grip performance and better FRAN.
Minimize Friction. Friction blisters and painful rips and tears are part of everyone sports athlete life. But when it comes to CrossFit considering the nature of the exercises you'll be doing, the chances of this happening are ten fold. And often having the bucket of chalk next to you won't cut it. Exercising with full hand gloves helps you minimize friction and prevents from bleeding hands and blistered palms.
Reduce and Prevent Calluses. Calluses usually happen when there's too much pressure and skin rubbing. While using Chalk can reduce the skin rubbing, too much chalk could be your worst enemy. Before you know you have the opposite effect – developing calluses. It takes time to build tolerance to the chin up bar but why not prevent that at first place?
Just using your regular working gloves such as Mechanix could be enough to reduce and prevent calluses. Nobody wants to deal with calluses for weeks and skip workouts. It could be frustrating, and it may affect your performance mentally and physically.
Slippage. The grip that slips is a common issue among beginners but could also happen to more experienced CrossFitters. However, there are various reasons why this happens; bad form, soft hands, sweaty hands, skipping the grip training lessons, putting too much pressure on your wrist, wet and slippery pull up or stand up bar, etc.
Anyhow, sudden drops and grip slips out of the fingerprints can be risky and could cause serious injuries. And not just to your hands, but to any muscle of your body. Ankle sprains back sprains, you name it. One of the best ways to prevent this is to know when to let go of the bar before this happens (think bad form). And second, you guessed it, get yourself the appropriate hand gear.
Hygiene. Not fan of working out with gloves? Well, you are not alone. The CrossFit community is in a state of disagreement – to wear or not to wear gloves. However get this, you are using the very same bar where your CrossFit fellows have ripped their hands, and now you are facing a bleeding issue. Every drop of blood is there, hanging on the pull-up bar waiting for the next victim.
Gross right? Besides, this falls under Box hygiene and ethics. And let's face it some people have bad hygiene. Not to mention all the germs and bacteria lurking. The bar is literally a germ and infection hotspot. So, gloves to the rescue. Besides, by wearing them, you respect your fellow Box members
Fran. You probably know this, but for the newbies – FRAN is THE CrossFit Benchmark WOD. Or to put it simply, one of the most popular WOD which is basically a barbell thrusters and pull-ups combo. One good way to master controlled movements and do the FRAN as fast as possible is doing it with just enough chalk and a set of gloves or grips.
This technique can have a huge impact and help improve your PR, where the form is the norm, and the right gear is just a nice addition to get there.
What Makes A Good Pair of CrossFit Gloves?
Durability. Durable fitness gear varies, depending on price and quality. Durable workout gloves are not an exception. Unfortunately, while our regular fitness gear such as barbells, dumbbells, and kettlebells are long lasting, gloves are not "buy it for life" type of equipment. They won't withstand the test of time, and they will occasionally rip.
However, there's a considerable difference between replacing your cheap elastic gloves every month and getting durable high-quality gloves that will last for six months or even a year. Let that be your benchmark of high-quality CrossFit gloves – find reasonably priced gloves that can withstand intensive WODs and serve you well until you hit the half-year mark.
Construction Materials. Quality gloves are lightweight, and they have multiple materials and additional layers of support built in. Usually made out of robust and flexible fabric with double stitching, double layered thumb, and reinforced seams. The most common material they use is leather, neoprene, synthetic (lycra) and silicone padding.
That offers high heat and freezing resistance as well as non-stick properties that prevent to get a blister rip or a callus tear.
Design. CrossFit gloves should be designed to offer protection, comfort, and support, and promote natural hand movement and enhanced grip. Most of the well-known brands selling weightlifting gloves have a hand specialist involved in the design process. They do their best to design a glove that can reduce the palm and finger friction and offer a safe and no-slip grip.
When it comes to the stylish look, it all comes down to personal preference. You can find gloves from plain black to bright colored models. But remember, quality always comes first.
How Well They Grip. The grip is probably one of the most important factors to consider. CrossFit bar workouts are all about developing firm grip and having the proper grip technique. Some training gloves are just not designed for pull up bar or set of rings exercises. They might be great for weightlifting but fall short when it comes to WODs.
While they are here to protect and support, you want them to feel natural on your hands and provide a firm grip. Your hands shouldn't be trashed after hours of an intense CrossFit workout due to wearing gloves.
How Well They Fit. There's nothing worse than getting the wrong size of gloves. They might be sturdy and durable, built with the highest tech materials but if they don't snag fit, they are useless. CrossFit gloves should fit as snugly as possible. Make sure you get the right size. Most of the retailers have a size instruction and illustrations charts. However, the size isn't the only issue. If they are poorly designed or super thick, no size will save the day, which leads us to the next item.
Thick or Thin.  This one is pretty straightforward, stay away from thick gloves with an extra layer of added material. In general, you want thin gloves, one that you'll forget you have them on your hands. You need to be able to feel the bar. If they aren't thin enough, it makes the grip harder, and the workout feels unnatural.
While thicker gloves might seem like greater protection, it's far from the truth. You are more prone to injuries and using thick gloves for CrossFit is looking for trouble. You'll end up with more hand friction, blisters, tears, and rips. Bottom line, find super thin gloves that can reduce the friction between your palms and fingers and the pull up bar.
Palm And Fingers Padding. Palm and finger padding is excellent, but to an extent. If there's too much silicon material added, it can affect your grip, big time. It's always better to stay away as much as possible from gloves with unnecessary extra padding. You want well balanced and thin padding with a soft touch for a greater natural grip experience.
Hot and Cold Bar Friendly. The hard steel pull up bar takes forever to warm up on cold winter days or to cool off on hot summer days. Now if you are doing your workouts inside the Box, you don't need to worry about the weather. But doing your WOD inside your garage gym or outdoors can be a real issue.
Also, handstand walks on the hot ground surface is not a pleasant experience. Having a pair of gloves that are heat and cold resistant come handy.
Chalk Friendly. Yes, you still need chalk while working out with pair of gloves. Gloves that work great with chalk are essential. Once your hands start sweating with all the rubbing and pressure that's going on, you'll need chalk for a firm and safe grip. If the glove doesn't absorb and retain the chalk, slippage and friction will happen.
Bottom line, make sure the training gloves are chalk compatible.
Phone Friendly. Perhaps by far the least important feature to have but I decided to put in this list anyway. Before I get back slashed think about all the Millennials and the chatty CrossFitters. Who are you going to call first to brag when you set your new CrossFit PR? Your entire phone contact list, right? Probably not, but you get the idea.
Having a phone-friendly gloves is an extra feature. If not for talking at least for tracking your CrossFit Wod Workouts with your favorite mobile app.
Breathable and Sweat Resistant. Odor, moisture, sweaty hands and a weak grip. That's the result of wearing gloves that don't have a proper airflow system built in. Quality Crossfit gloves have ventilated holes and high-airflow mesh designed to provide circulation and air to pass through. This ventilated system keeps your hands dry and reduces humidity which allows your hand to breathe.
Besides, the ventilated perforations absorb the chalk and eliminate the sweat.
Machine Washable. Your gloves will get dirty, wet and smelly. Training gloves are constructed of hybrid materials. That makes them flexible and durable. Leather gloves are great, but they can get mold and mildew and unfortunately aren't machine washable. The good thing is that that are various methods how to take care of your leather gloves.
One of the most effective and safe methods to clean all the dirt is to use saddle soap and mink oil. Synthetic leather, lycra, and neoprene, on the other hand, are more washable but always follow the label instructions from the manufacturer.
Price. As with any product, workout gloves come with different prices. One thing that I want to emphasize is that in general CrossFit gloves are not a long-lasting product, so be ready to replace them after a given period. Just keep that in mind when you are looking for the best value for the money deal.
But let that not discourage you, some gloves could easily past the one year mark until the time comes to buy a new pair.
Related Articles:
Hand Care Tips For CrossFit
Taking care of your hands when doing CrossFit is crucial. Rips and tears are part of this strict fitness regimen, but quite often those injuries can be brutal and barbaric. But that's not all, some Crossfit gals don't want to develop man-hands, so take that into account.
Folks have already covered this in great details so I'll include few resources below. I just wanted to touch this subject briefly with a quick checklist.
Learn how to grip the bar properly
Develop grip strength on barbell movements
Use Balm Protection and moisturize your hands often
Use Chalk
Get Gloves and make sure they fit snugly
Get Grips for palm protection and various pull-up WODs
Get a Callus Shaver
Recommended Reads:
Final Words
There you have it, if money is no object, finding a pair of high quality and durable CrossFit gloves with extra features is not that hard. If you are a fanatic CrossFitter that wants to take the Fran to the next level or you have a sore hands, gloves are a great gear to safeguard your hands.
Let us know in the comment section what is your best pick from this list. Also if you have any suggestions or questions, you can shoot us an email.