Last Updated on September 6, 2020 by Nick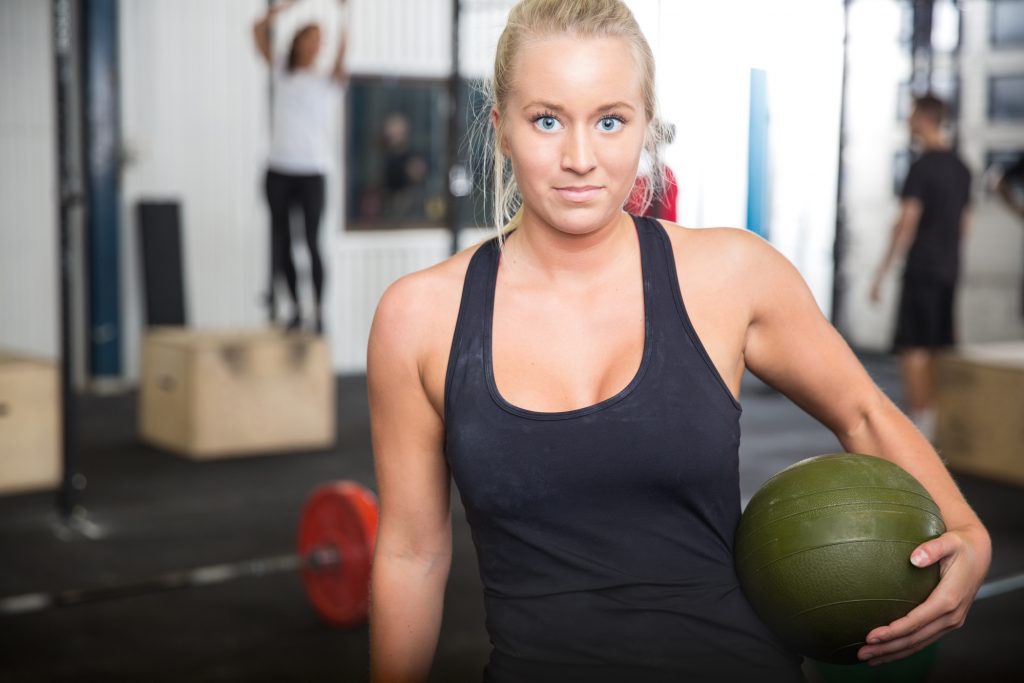 Weighted training balls come in different sizes and weights but they all have one thing in common, they are designed for extreme and explosive training.  Most popular among them is the traditional Medicine Ball.
Yet, in the more recent years new balls seem to pop up all the time, left and right.
Now we have the Wall Ball, Bosu Ball, Swiss Ball, Yoga Ball, the Slam Ball and many more. Each strong and dangerous competitor to the Med Ball.
However, the highest rival appears to be the Slam Ball.
Before we jump into the balls showdown, here's a list of the best 5 Slam Balls found in the fitness storage racks:
1 Disclaimer: In the name of full transparency, please be aware that this blog post contains affiliate links and any purchases made through such links will result in a small commission for us (at no extra cost for you). Being a part of these affiliate sales networks makes it possible to fund our website. We only recommend products that our authors consider to be helpful and useful and we always have our readers' best interest at heart.
What Are Slam Balls And How Do They Work?
Slam Balls are very like their closest relative, the medicine balls. Yet, there's a slight difference. Slam balls are more heavy duty and durable, they are filled with sand and are designed for powerful and explosive slamming and throwing.
We use slam balls mainly for dynamic workouts and repetition sets such as overhead lifts, drops, throws, squats and of course slams. They are great workout tool for building strength and conditioning. Slam balls don't bounce back, they are highly durable and you can use them indoor but outdoors as well on hard ground surfaces.
Why Use a Slam Ball?
Slam Balls helps you improve flexibility and blood circulation, strengthen your abs, and pushes you to work hard. If you are a fan of unconventional training over traditional weight training this could be your go-to training tool.
You can work on building up strength and power, improving your functional training and balance, and wake up and engage every single muscle.
Slam Balls are great for any sport, including MMA, soccer, football, golf, basketball, wrestling, CrossFit, and any other athletic or fitness training. Lastly, it's a great piece of gear to get rid of all the negative energy and build up mental toughness.
All you have to do is lift the ball and slam it. Simple as that.
What Makes a Good Slam Ball?
Durability. The slam ball should remain undamaged and unaffected by repetitive day to day strong and muscular slamming, dropping and throwing.
Rubber Shell. The most quality slam balls are made of tough rubber, similar to recycled tire scraps (think tractor tyres). They are designed to withstand extreme beating and aggressive slamming.
Quality rubber shell will not show any signs of tear or wear, it should be burst and blowout resistant and it will absorb any hard surface impact.
Griping. Heavy balls that are slippery are not just dangerous, but a mood killer. Working with a weighted slam ball is tough and exhausting. During hard core exercises once the sweat starts to kick in it gets slippery quite fast. Make sure the slam ball has a good rugged texture for a perfect grip.
Weight range. The weight of the slam ball should fit to your fitness level and training priorities. So how do you determine your fitness level? It varies based on age, gender and skill level. There are different weight ranges for beginner workouts up to advanced workouts (more on that below).
Good rule of thumb is to go with weight that's at least 30% below your one-rep max.Your one-rep max is the max weight you can lift for a single repetition for a given exercise.
Diameter. Slam Balls with a larger diameter are harder to exercise with. If you are an athlete or a fitness professional with larger hands and body mass you probably can handle larger balls. If not, we recommend to stick with the smaller size slam balls. That way you can rest assured that there won't be unexpected slips and drops during your workout session.
Choosing The Right Weight
When choosing the right weight and diameter ask yourself these questions:
What is your fitness goal and your fitness level? What movements will you perform? Do you plan to do wide range of exercise or just a few? Do you have a large or small hands?
Bottom line, there's no one size fits all, and it all depends on each individual personal preference and fitness level capabilities.
If in doubt, here's a nice slam ball weight breakdown:
Recommended Slam Ball weight for beginners:
10 lb-20 lb – for wider range of exercises
Recommended Slam Ball weight for fit Male:
20-30 lb – for wider range of exercises
50 lb – for hard core exercises
Recommended Slam Ball Weight for fit Female:
15-20 lb – for wider range of exercises
30-50 lb – for hard core exercises
Product Reviews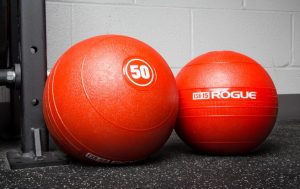 Image source
Rogue is well known brand that sells all sorts of strength conditioning gear. The Rogue Echo Slam Ball is one of the toughest and most durable balls on the market. This Slam ball is filled with sand for a proper shifting and weight distribution and has little to no bounce. It has rubberized exterior shell and strong seams to prevent tear and wear.
The harsh and rugged rubbery texture allows a safe and non slip grip for fast and intensive workouts. This ball is easy to grab, hold, and throw.
The weight range is from 10 lb up to 50 lb which makes it a perfect fit for every fitness enthusiast, crossifter or athlete. Rogue Echo Slam Ball comes with a smaller diameter of 9'' and a larger one of 10'' diameter (for the balls over 35 lb of weight).
While it's promoted as wall friendly, this balls works better for hard surface ground slamming rather than wall throwing exercises.
The Echo Ball comes in red color and has two years warranty.
Bottom line, while this ball is more expensive than the rest of the Slam Balls in this list, it's rigid and up to the task. The Rogue Echo Slam Ball is built to take daily beating and you can slam it into the floor as hard as possible and it won't shown any signs of wear, damage or blowouts.
Check Prices and Product Reviews
Titan Fitness slogan in nothing more and nothing less but – Be Titan Fit. I don't know about you but I'm sold. Titan Fitness is toe to toe with Rogue Fitness but not just when it comes to weighted balls.
This company offers various fitness gear and equipment for strength training and conditioning. Including fitness sandbags, speed ropes, yoga and balance balls, dual grip balls etc.
The Titan Slam Ball is a heavy duty and highly durable ball that has larger diameter than the Rogue Echo Slam Ball. In their product line the heaviest ball they sell is 60 lb. While the smallest one weights 10 lb and has a diameter of 9.5''.
That makes it half an inch wider than the Rogue Slam Ball.
As most of the slam balls the inner shell is loaded with sand and is designed and tested to be slammed hard and aggressive. As sand filled it stays on the hard surfaces and does not bounce. The Titan Slam Balls is forcing your body to compensate for the unpredictable center of mass shifting.
The texture of the outer shell is not as rough as the Rogue Slam Ball which makes this ball slightly more slippery. Yet, make no mistakes, this ball provides great and secured grip. But, it has a larger diameter, so folks with smaller hand may struggle to hold it still.
The rubber shell has a great uneven textured pattern that adds another layer of thick walls to provide better gripping and control.
Bottom line, The Titan Slam Ball is sturdy and tough, constructed to withstand rough usage. It a great choice for beginners and more advanced fitness users ready to release and test their power and strength.
Check Prices and Product Reviews
Rep Fitness is a family owned business dedicated to create high quality fitness gear. They have a great support team, and one can tell that they put their soul and heart into every new product they release. Each product is designed to stand out, including their V2 Slam Ball.
Black in color, V2 Slam Ball is advertised as the next generation ball with 50% more thicker shell than their previous model. V2 is sand filled, battle tested, and durable slam ball with a weight range of 10-70 lb.
Compared to the Rogue Slam Ball and the Titan Slam Ball they sell the heaviest 70 lb weighted ball.
One thing that differentiate Rep Fitness from their competitors is that they tell upfront that while their ball is built to last, occasionally it needs to be replaced. Over the years Rep Fitness has earned my respect, so I highly recommend their products.
V2 Slam Ball's rubber texture makes it almost sweat resistant and offers a comfortable and easy grip. The layout is well thought out, sturdy enough to reduce any type of unpredictable slipping.
Pick it up and it stays in your hands.
Of course, as long as you have the strength and you feel fit enough to do all the throws, slams, squats and all the conditioning.
For anyone looking for a slam ball challenge, and a good and sweaty explosive HIIT, V2 could easily become your favorite piece of workout tool. It's a great addition to your home gym.
Check Prices and Product Reviews
TRX is one of the oldest fitness brands in this list, they are the official partner of the Military Training Program since 2007. You are probably familiar with their famous TRX suspension trainer.
TRX stands for Total Resistance exercises and as the name suggest it's safe to say that the TRX Slam Ball falls into that category.
At first look the TRX Slam Ball outer shell appears like a small truck tire. Far from the great looking tire tread texture, this ball has one of the finest grips.
Basically it locks between your hands.
Given the fact that this slam ball weights anything from 6lb up to 50 lb, having an easy and secure gripping is of utmost importance. Dropping a 50 pounds sand ball that lands straight on your feet is no joke.
TRX Slam Balls is designed for indoor and outdoor quality slam workouts. The rubber shell is strong, rugged and durable, ready to pass every single slamming test. TRX Slam Ball is bounce and sweat resistant.
It's a great ball for people just starting our, fitness enthusiasts, crossfitters, MMA fans, Military and Law Enforcement, or any other athlete and fitness professional.
Bottom line if you want to increase your athletic performance, and burn extra calories, all you need is determination and a slam ball. The TRX Slam Ball can help you get there and achieve your goals. And it's fun.
Check Prices and Product Reviews
SKLZ sells mostly sports training equipment. They put higher emphasis on team sports instead of individual sports. The SKLZ Slam Ball is made in that spirit as well. Promoted as a full-body strength and power training tool for soccer, baseball, basketball, football and golf.
But, if it's good enough for professional athletes, it's good enough for beginners and fitness lovers.
SKLZ Slam Ball is something in between, a medicine ball and slam ball. Yet, this ball literally jams into the ground once slammed and has zero bounce. We believe it's safe to say that it leans more towards being a Slam Ball rather than a med ball.
Compared to their competitors the SKLZ Slam Balls weights a bit less. The heaviest ball you can find is 25 lb. This ball is easy to grip and has a decent layer of rubber texture to prevent any slips and undesirable drops.
The surface of the shell resembles a basketball or traditional texturized medicine ball.
SKLZ Slam Balls is made of finest quality. It's durable and heavy duty to take quite some beating and punishments. The only downside is that they do not sell heavier balls.
This could be a deal breaker for athletes that want to take their training to the next level and perform more explosive and challenging workouts. In case 25 lb falls into your desired weight range, and you want a ball with a smaller diameter, the SKLZ Slam Ball might be the gear you have been looking for.
Check Prices and Product Reviews
Training With Slam Balls
Working out with Slam Ball is good for various type of training. Strength training, functional training, plyometric training, abs and core training, conditioning work, and power training.
Slam Balls Exercises
While at first glance slam balls appears to be just a weighted ball, make no mistake – a slam ball is full of surprises. If you head over to YouTube in less than a minute you can find dozens of unique slam ball exercise ideas.Here's a great list of must try exercises:
Sit Up and Slam
Overhead Throws
Rotational Throws
One Arm Throws
Twist Throws
Rotational Lunge
Overhead Lunge
Squats
Sumo squats
Sit ups
Oblique Sit ups
Ground to shoulder
Squat and Push
Slam Ball Burpees
Rainbow Slams
Oblique Slams
Russian Twist
Carries
Thrusters
Weighted Planks
Bear Hug Squat
Halo
Headlock Squat
Shoulder Squat
Slam Grip Pushups
Triceps Pushups
Rolling Pushups
Roll up and Push Up
Triceps Extension
Front Raise
Split Jump Slam
Jumping Slam Ball
Slam Ball (Kettlebell) Swing
One Legged Hip Bridge
V-ups
Bottom line, by using a single workout tool such as the slam ball you can increases your range of motion and that forces you to do natural body movements. It adds dynamic to your workout and it's great for circuit training and HIIT.
Lastly, you are not isolating any muscle group but rather engaging every muscle in your body.
Slam Balls Techniques
Slam balls can weight anything in the range of 5-100lb. Before doing any slam ball exercise you need a proper warm up to avoid injuries and prevent muscle soreness. You are going to rely mostly on your legs so make sure to do proper leg stretches and take your knees through a large range of warm up motions.
After a successful warm up it's time to start your slam ball workout.
One on the most common exercise you'll be doing is the Forward Ball Slam
How To Do a Forward Ball Slam: Step by Step
Pick the ball and place it right above your head
Arms slightly bent and core tight
Keep your head up
Feet somewhat wider than your hips, leave enough space for the ball to land.
Breath in and keep your back straight
Slam the ball down hard in a squat position
Keep your hands nice and straight when picking up the ball to get more shoulder work
Grab the ball as it bounces back slightly from the ground
Place it above your head
Repeat.
If you are a beginner and you find this exercise hard and exhausting, you can bring the ball close to your chest, press it, and push it up above you head.
Common Newbie Mistakes To Avoid:
Don't skip the warm up
Don't slam the ball on your feet
Don't slam the ball far away from your body to avoid stepping out from your squat position
Don't bend over when picking up the ball, keep your back straight, head up.
Don't forget to breath in and breathe out
Remember, safety first. Incorrect slams and throws and unbalanced body can cause serious injuries. You need a proper warm up, non slippery shoes, and correct technique.
Alternatives To Slam Balls
Similar balls to the Slam Balls are the traditional Medicine ball, the Wall Ball (aka the CrossFit Ball) and the Swiss Ball (aka the Yoga Ball, Gym ball, or the Stability ball). While they are all weighted balls (except the Swiss Ball) each has a different purpose in the fitness world.
Let's do a comparison and find out where each ball fits the best.
Slam Balls Vs Med Balls
Slam Balls. The medicine balls and the slam balls are not one and the same. Slam balls are made for throwing and slamming exercises (forward slams, broad jumps to pases, chest passes). Slam balls have harder rubbery shell. They are usually smaller in diameter than the medicine balls.
Slam Balls are less bouncy and filled with sand. You can use slam balls indoor and outdoor, and they can withstand hard surfaces and absorb the impact without bursting out.
Medicine Balls. The traditional medicine ball goes way back compared to the newcomer – the Slam Ball. Med balls have softer shell and larger diameter than the slam balls. While they have the similar weight with the slam balls they have higher bounce.
Med balls are filled with gel instead of sand and are primarily built for indoor workouts. The med ball is a great training tool for wall tosses, tossing, catching, diagonal chops, pushups and various partner exercises.
Can You Slam A Med Ball?
Sure. You can slam a medicine ball but it's not recommended since it bounces back. Also it lacks the heavy duty rubber shell, a common quality feature found among Slam Balls. Slamming weighted ball such as the medicine ball can cause serious injuries.
For slamming it's better to stick with the Slam Ball which has the lowest rebound and hardest shell. You can slam it as hard as you can and it wont fire up back into your face.
Slam Balls Vs Wall Balls
As the name suggests, slam balls are used for slamming. But not so much for throwing into the walls. For that purpose we have a better alternative, the Wall Ball. The Wall Balls is commonly known and used among crossfitters. While Slam ball is heavy duty and built to last, you can throw it against the wall, but it has little to no bounce.
If you prefer wall exercises you probably want to use the Wall Ball. It's larger, lighter and it's great for wall squats, wall throws, and wall sit-ups.
Can You Slam Wall Balls?
Same as the medicine balls, wall balls have a rebound, so slamming them into a hard surface is not recommended. Wall Balls are great for wall throwing exercises and partner throwing workouts. For slamming exercises stick with the Slam Ball.
Final Words
There you have it, we covered almost everything you need to know about the popular Slam Balls and how they differentiate from the rest of the training balls pack. Remember, while the Slam Ball appears like a regular weighted ball, there's more to it.
The Slam Ball is one of the toughest and strongest balls you can put your hands on. It will beat you over and over no matter how explosive and powerful your slam is. Put this workout tool on a test and come back here to share your experience.
Lastly, let us know in the comments which slam balls is your favorite pick and what type of training you plan to do with it.
Happy slamming.