Last Updated on September 6, 2020 by Nick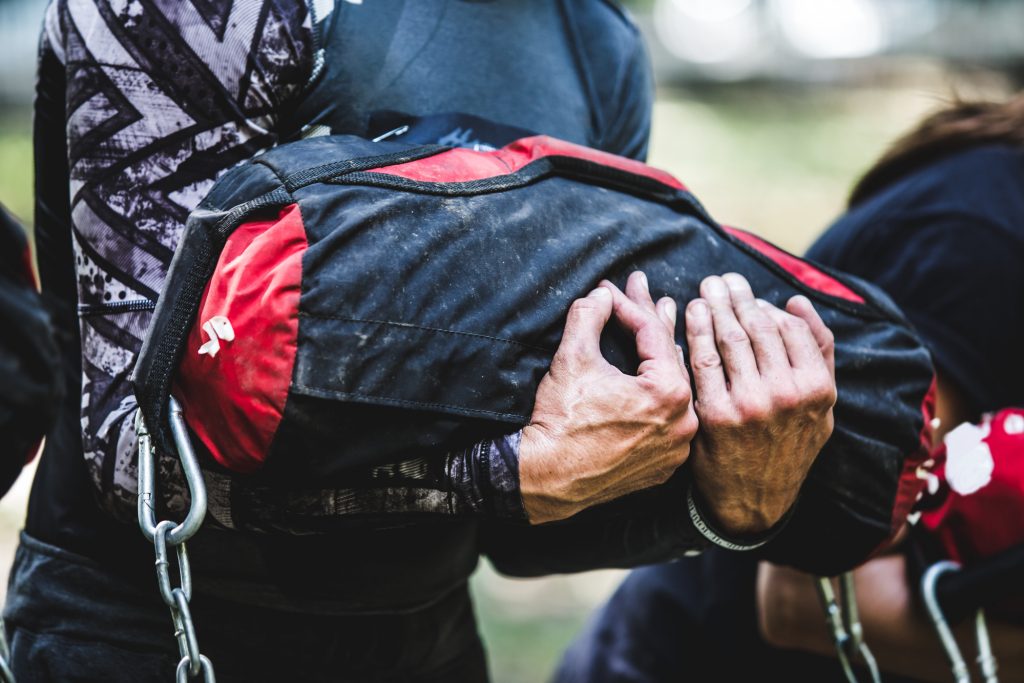 Many fitness enthusiasts prefer training in the park, at the fitness trail or the outdoor gym. Others enjoy to do the exercises at home. In the backyard, the garage gym, or even in the living rooms.
Now you can do both with a single piece of gear – the sandbag.
If you don't have the time or the money to go to the gym, and yet, you want to perform variety of exercises, look no further.
I've gone through a lot of fitness equipment, but there's something about training with sandbags that has me coming back for more.
Thanks to the increasing popularity of unconventional training, you can find a perfect fit.
Sandbags come in different sizes, shapes, and colors.
In this article, we explore the pros and cons of the best training sandbags on the market. Furthermore, we included a complete buying guide below.
Without further ado, if you are looking for a portable training tool here are the top 8 sandbags for working out:
1 Disclaimer: In the name of full transparency, please be aware that this blog post contains affiliate links and any purchases made through such links will result in a small commission for us (at no extra cost for you). Being a part of these affiliate sales networks makes it possible to fund our website. We only recommend products that our authors consider to be helpful and useful and we always have our readers' best interest at heart.
Last Updated on September 6, 2020 by Nick
Note: You can use the Table of Contents below to navigate and jump back and forth to your preferred section.
Sandbag Training Benefits Over Traditional Set Of Balanced Weights?
Traditional exercising with a set of weights and standard dumbbells has its place. Yet, when compared to sandbag training it falls short on various levels.
Here are few sandbag benefits over using a traditional set of balanced weights:
Improves Flexibility
Sandbag exercises strengthen your core muscles
Sandbags allow endurance exercise training
Full body stability workout
Pushes you to work hard
Natural Body Movement
Great For Home users that do not want to spend a lot of money on exercise equipment
Affordable and Portable
Builds balance and stronger grip
Increases your range of motion
Great for resisting training, weight loss, and intense challenge
Full body workout routine
You can see results quickly
Adds dynamic to your workouts
Great For circuit training and short interval runs
Working out with sandbag doesn't isolate muscle groups
A lot of muscle groups are active – the small muscles and the secondary muscles
Adds dynamic to your workouts
Sandbag Exercises For All Fitness Levels
Working out with a sandbag offers a powerful full body training. It's a common gear used in Spartan Race, Goruck Challenge, and Crossfit Boxes. Also within Fire stations, Police, Military and Law Enforcements.
And there's a big reason for that.
Sandbag workout will challenge you physically more than anything you've tried before. It helps increase your stamina, functional strength and endurance.
Listing all the exercises you can perform with a sandbag is a challenge on its own. The number or exercises is almost countless.
Here are some of the most common sandbag exercises for a stronger body:
Presses
Drags
Push Presses
Bent Over Rows
Deadlifts
Kettlebell Swing
Burpees
Shoulder Press
Gripping For Curls
Olympic Lifts
Squats
Sumo Squats
Curls
Rotate Swings
Snatch
Swap Weights
Lunges
Shoulder Carries
Overhead Squats
Fireman
Tricep Extensions
Top 5 Workout Sandbags For Training Reviews
SKLZ Heavy Duty Sandbag is a good alternative for sport athletes or fitness enthusiast that want to work with light to moderate weight. The maximum weight capacity is 40lbs. It comes with 4 filler bags and each can be loaded with up to 10 lbs of sand.
Due to its small size, fitting all the fillers in the outer bag is bit tricky but doable. However, even if you manage to load all the 4 liners into the sandbag, you'll end up with not very practical nor user friendly sandbag.
Remember, the main benefit of using sand is for it to be able to shift during your workouts.
If ~30 lbs is a weight that seems like a good fit in your workout regime you might find SKLZ Sandbag a great pick. Specifically for HIIT or functional training. SKLZ sandbag is built out of strong and durable material.
It has sturdy construction but nothing close to 1000D Cordura Nylon Fabric as Brute Force or the Rogue sandbags.
Yet, given the fact that the SKLZ Sandbag total weight limit is 30-40 lbs it's safe to say that it meets the quality standards to be part of this list.
One thing that distinguishes this sandbag from the rest is that the filler bags have handles as well.
Each filler bag comes with one handle loop and can be used separately from the sandbag. It's like having a four 10 lbs dumbbells for performing various exercises. The filler bags have double velcro closure to prevent sand leaking.
If you plan to exercise with the filler bags only, reinforce the closure with a duct tape.
The SKLZ Sandbag comes with 6 sturdy handles for various gripping option. The handles are out of rubber material. That offers flexibility and easy to grab handles. With a proper grip you have body balance and you can perform your favorite workout movements.
Not everyone will agree but I find the rubber handles a bit hard on my hands.
I prefer military grade fabric that is more smooth and softer, both for my hands and shoulders. I like to think of the rubber as a good alternative, one that's better than using some rough material.
The SKLZ Super Sandbag comes with an instruction manual as well. They have included some of the sandbag exercises. On top of that they have a YouTube channel where you can watch plenty of sandbag training videos.
The zipper is solid and it does the job to prevent sand leakage. Of course, as long as you don't overload the bag by filling it up to the top.
If you looking for more durable and heavy duty sandbag, one that you can slamm, toss and throw around, this bag is probably not the one.
Bottom line, SKLZ Sandbag is a good inexpensive option for beginners or anyone that wants to save few bucks. If you are seeking for lighter weight workouts and solid functional or conditional training program, SKLZ meets that criteria.
Pros:
Inexpensive
Compact light design and portable
Variety of Gripping Options
Adjustable weight
Filler bags come with handles as mini sandbags
Good Choice for HIIT, Conditioning and Functional Training
Cons:
Light to Medium Weight Only
Not much room for the sand to shift when fully loaded
Rubber Handles
Average Zipper and Overall Material Quality
Check Prices and Product Reviews
Rep Fitness Sandbags are one of the toughest heavy duty sandbags on the market. Made with 1000D Cordura fabric that offers higher abrasion resistance and outstanding durability. This sandbag has heavy duty handles. Handles are triple hand stitched over seat belt webbing reinforcement. Which makes this sandbag almost indestructible.
It comes with 6 handles in total. Each set of handles has proper positioning and offers a great workout experience. Made with thick military grade material gives you natural and smooth grip feeling. The handles are wide enough with plenty room for athletes with small to medium sized hands.
Yet, if you do happen to have bigger hands than the average guy or gal you might find the handles a bit smaller.
But there's a good reason why Rep Fitness decided to go with this handles size.
Large handles make a sandbag feel loose. That would force the bag to touch the flooring, which could be a huge problem for shorter guys and gals.
Add larger and heavier bag to the equation and you can forget about various bending sandbag workouts and exercises.
Furthermore, if you have bigger hands and don't want to rely much on the handles, the Rep Fitness Sandbag has smooth canvas.
This sandbag is easy to grab anywhere to want. On top of that, the "handles free" training helps your work on improving your grip strength.
If that doesn't cut the chase I recommend going with the Brute Force Sandbag that has larger handles.
This heavy duty sandbag comes with large YKK zipper. Feature every sandbag should have. YKK zipper can withstand all the weight pressure. Including flipping throwing and all sorts of beating during your fitness workouts.
Besides, the zipper has a second layer of heavy duty and double stitched material. As well as a hideaway flap for greatest durability and security.
The Rep Fitness Sandbag comes in 2 different sizes. Medium Sandbag with 25-75 lbs capacity. And large Sandbag within 50-125 lbs weight range.
The ideal weight is ¾ of the total bag weight capacity, while the smallest weight varies. Allowing proper sand shifting and distribution for maximum performance and amazing training experience.
Both the medium and the large sandbag come in three different colors: red, black and camo. The medium sandbag has 2 filler bags. Smaller filler bag with a total weight limit of 25 lbs and a large filler bag with up to 50 lbs of sand.
Recommended weight range for this bag is between 25-65 lbs. Loading it with less or more weight makes the bag difficult to maneuver with.
The large bag, comes with 3 large filler bags, each of total weight capacity of ~40 lbs. The ideal weight range for comfortable usage is between 70-110 lbs.
Keep in mind these are vendor's ideal weight recommendation. I'll recommend a different weight range. For the smaller bag anything between 35-55 lbs works fine, and for the larger one 80-100 lbs.
Doing so, you can feel the sand shifting and perform the workouts for strength and mobility as you should. You can do a variety of exercises with great ease and a proper grip handling.
Training with sandbags should be unstable and force your muscles to anticipate. Basically, you are teaching your body how to react when unexpected sand shift happens.
More your struggle during your resistance training, and figuring out how to handle the next rep, the more hardcore and challenging the training becomes.
And that is what you want.
Dynamics to your workout, constantly adjusting your grip and improving your power, strength, endurance and mental toughness.
Filler bags come with strong double velcro that folds and keeps the sand secured. Of course as long as the bag is being handled the right way. If you plan to use the sandbag under tough conditions you can use a 3rd layer of security for the filler bags.
Again, nothing beats a quality gorilla duct tape.
This sandbag comes with one year warranty and covers normal wear and tear.
Bottom line, the Rep Sandbag is affordable pick with a great design. Has sturdy and heavy duty material for every workout fan that would be happy working out with up to 100 lbs weight.
Pros:
Durable 1000D Cordura military toughness material
Amazing grip positioning and handle softness
Double heavy duty velcro closure for the filler bags
Adjustable Weight
The Zipper Quality is outstanding
Thick triple hand stitched sewing and seat belt webbing
Cons:
Total practical weight limit is ~100 lbs for the larger bag
Handles might be small for people with bigger hands
Not designed to be slammed or dragged
Check Prices and Product Reviews
Brute force sandbag is made with thick, tough, and superb heavyweight military grade material. The company behind this product has been on the US market for a long time, and each piece of gear is 100% USA Made.
Brute Force is the premier provider of sandbag training kits for the US Navy, dozens of Law Enforcement and Fire Departments Academies. As well as CrossFit boxes and MMA training camps.
With the highest quality in mind, they sell one of the heaviest sandbags you can find – Brute Force Heavy Hitter Strongman Sandbags. This sandbag is elite league with up to 400lbs maximum weight capacity. The Hitter Strongman is a heavy duty durable bag that comes with no handles.
Besides, they sell different sizes and adjustable sandbag kits (with or without handles).
The Brute Force Sandbag is a great fit for people starting out. Regular folks that want to do lightweight training or physical therapy.
As well for more advanced users. Fitness professionals that want to perform training exercises for strength, power and stability.
Whether you are a fitness enthusiast, intermediate or professional athlete they've got you covered.
This sandbag comes with a superior triple reinforced BOX X stitching. Protected with versatile nylon fabric. Fabric resistance to fading, abrasion, rot and mildew (aka 1000D Mil-Spec Cordura).
The construction is rugged and well built. It can handle almost anything; tossing, slamming, pulling, you name it.
The Brute Force team have built their own mobile application that you can install on your phone. Just follow along with their best warm-up exercises. Within the app they also have a great workout of the day program (aka WOD).
Word of warning. Though this sandbad has a superior quality, it's not recommended to use this sandbag on concrete or gravel.
The layout of the handles is on both sides (right and left), top and bottom, and it has a total of 8 handles or 4 sets. The handles are of heavy duty nylon. Very flexible and soft, but most importantly very sturdy and tough.
The Brute Force sandbag has the best world zippers and has military grade Velcro filler bags with double reinforced seals. This sandbag is waterproof and sweat resistant and editor's favorite pick. You can't go wrong with this bag.
Pros:
Military Grade Material
Up to 400lbs maximum weight capacity
US Made
Resistance to fading, abrasion, rot and mildew
Waterproof
Durable
Adjustable Weight
Great grip positioning
Comes with a mobile app
Great choice for intermediate and professional athletes
Cons
Pricey
Not a wise investment if you plan to use it on a concrete floor or gravel
Short people might find this bag too big
Check Prices and Product Reviews
Garage Fit was one of the first commercial sandbags I've used. That bag is built to last and it has beaten me so many times that I lost count.
No sign of wear and tear for an entire year until I slammed it so hard that it tore up.
Comes in three different sizes and two different styles. With or without core rubber handles.
Here's the size and handle breakdown:
30 lbs sandbag (no rubber handles) with one filler bag included.
60 lbs sandbag (no rubber handles) with two filler bags.
60 lbs sandbag (with 6 rubber handles) three filler bags.
And 120 lbs sandbag (with 6 rubber handles) three filler bags.
The bags have core rubber handles and double-sealed inner fillers.
The weight is divided equally by three. Meaning the 60 lbs comes with three 20 lbs filler bags and the 120 lbs sandbag comes with three 40 lbs filler bags.
The "rubber free" sandbags have fillers, each with maximum weight of 30 lbs.
Keep in mind when I say rubber I mean the core of the handle is made out of rubber. It has strong canvas over the rubber insert for smooth and flexible grip, and it feels soft on your hands.
This sandbag is design and constructed to handle various flooring and environment conditions. Garage Fit Sandbag takes little to no space.
It's easy to load, and there a flap over the strong zipper to prevent sand leakage. Has a strong stitching, both in the outer and inner shell.
The outer shell is made out of waterproof and sweat resistant Cordura nylon.
The layout of the handles is decent. Yet, when fully loaded you might find the handles on the top to be hard to exercise with. So take that into account when choosing the right weight.
The inner shell has double-sealed inner liners
Bottom line, it's reasonably priced for anyone on a budget and it's a great piece of tool for fitness training.
You can push it, pull it, drag it, throw it. Great alternative over conventional weight training exercises such as deadlifts, squats, presses, pulls. You can work on every muscle with a single item.
It's a great training weapon for your garage gym.
Pros:
Durable and long-lasting
Easy weight adjustment
Waterproof and sweatproof
Cons:
Hard to use the top handles when fully loaded
Maximum weight capacity able the sand to shift is ~100lbs
Handles can feel rough and heavy on your hands
Check Prices and Product Reviews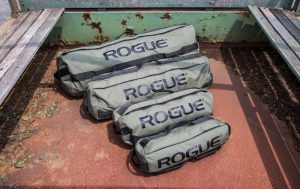 If you prefer unconventional training as I do, I'm sure you've heard about Rogue. Rogue is a well known fitness brand that sells strength and conditioning equipment.
And when it comes to training with sandbags they have a handful sandbag items in their product line.
Rogue Sandbags, Strongman Throw Bag, Rogue Feed Sack, Rogue Strongman Sandbags, Rogue Cyclone Strongman Sandbags, Wreck Bag Mini, StrongFit Classic Sandbags, and Wreck Bag.
In this review, we cover the Rogue Sandbag. The Rogue Sandbag is the official bag of the Reebok CrossFit Games. This weightlifting sandbag comes in 4 different sizes: 40lb, 80lb, 160lb, 220lb.
When going through the ordering process you have the option to choose between funnel filler bags or traditional funnel bags.
The main difference here is to go with pre-filled bag or fill it up with your own sand. Instead of sand you also have the option to buy a crumb rubber fill material from recycled tire scraps.
How cool is that?
This brand stands proudly with the fact that their sandbag is specifically US made. They use heavyweight military Cordura material, strong stitching, and YKK heavy duty zipper. Also extremely tough and durable black webbing handles.
The Rogue Sandbag is waterproof and machine washable. The handles have a great positioning and layout.
This sandbag is a great option for folks that want to take their fitness to the ultimate level. Also a great pick for intermediate fitness users looking for a quality and want to invest a little more in this gear. And, of course, replace the traditional gym equipment.
Lastly, as their customer, you get a 3 years warranty for a normal tear and wear.
Pros:
1000D MIL spec Cordura brand nylon construction
Option to Choose between funnel and traditional filler bags
Up to 220lb
You can use recycled tire scraps instead of sand
Heavy-duty zipper and reinforced velcro flap closure
Waterproof and sweatproof
Machine washable
Cons:
Expensive
You might find the handles to be rough on your hands
Check Prices and Product Reviews
Bonus: 3 Budget Friendly Training Sandbags
In case you are looking for a more budget friendly home gym tool, we decided to add these three sandbags that we believe are reasonably priced and are worth a look:
What Goes Into Choosing A Good Sandbag?
When choosing the right sandbag it all comes down to picking the one that you feel best fits your fitness level. But as any fitness addict, you want to pay attention to the quality. Sandbag is not your regular cast iron dumbbell.
Here are the main sandbag features and some things to look out for:
Quality, Reinforcements and User Friendliness:
Workout sandbags should be able to withstand rough usage and not torn up easily. The last thing you want is getting the stitching ripped apart. This can cause sand leakage or seams and bag handles coming apart, made with design over quality.
Sand leaking could be a real nightmare. Make sure the filler bags can be sealed properly and are of high quality, as the sandbag itself. So sand doesn't leak outside of the outer bag.
Most filler bags are of good quality rubber and nylon. Often with a strong and double velcro seal. Yet, sand leaking could happen. Even if they are all advertised as leak proof.
The more expensive bags usually come with stitching reinforcements. Not just outside but on the inside of the bag as well.
To prevent sand leakage you can use duct tape as a second layer of protection and security.
I'm talking here industrial or gorilla duct tape.  One that's much heavy duty and stronger than the regular duct tape.
However, sand is sand, and eventually, it might find its way out. Yet, there's a huge difference between slight spill that stays inside the outer bag and a blast all over your floor.
The Construction, The Design and The Material:
Let's face it, you ain't going to be gentle using the fitness sandbag.  Rather, you'll be probably very aggressive. That bag should be able to take quite a beating and punishment. It will be: thrown, dropped, punched, dragged, lifted, swinged, tossed, slammed, flipped, pulled.
You get the idea.
And that's another benefit of using a piece of fabric instead or iron. You can do all sorts of exercises. But remember, this isn't a punching bag as this one (one of my all-time favorites).
Know your limits when working out with your sandbag. 🙂
The construction and the performance for both the inner bags and the outer bag should be durable. Sturdy and rugged enough in order the heavy canvas fabric to withstand all the damage. When it comes to the material, your hands and body will the rubbed and scraped.
That could be tough and irritating to your skin.
For people with sensitive hands and fingers that could be a huge problem. Especially when working out with heavier weights. Bag handles could be rough on your hands.
You can reduce the pressure  by using a piece of soft fabric, but it's not the best solution. It works good when doing shoulder press of power clean for example.
One alternative I recommend is to get yourself a set of weight lifting gloves, such as these by Harbinger.
Always check the product description to see what material the manufacturer is using. Cordura is the best quality fabric (more on that later).
Compact design is something most of the sandbags have. They are easy to store and the space they take depends on the dimensions of the bag you buy. Yet, there's a design and size difference and not all are portable and adjustable.
Several brands offer waterproof and sweat resistant sandbags. If you plan to do your workouts outdoors you may want to grab a water resistant sandbag. Facing different weather and training conditions, such as: rain, snow, or moisture, leaves you with no other option.
Getting a waterproof sandbag might be the right call.
Zipper Quality:
Filling the bag up to the top might cause the zipper to rips open and could get damaged. If the zipper is not well sewn and made out of weak quality it's a game over.
Think about all the strength training exercises and body movements you'll be doing.
Your best bet is a YKK zipper. They have impressive construction and reliability.
Try not to overfill the liners. Good rule of thumb is to use a bit less of the weight and leave extra room between the inner part of the bag and the zipper.
I would recommend to stick below 70% of the sandbag maximum weight capacity.
If you're looking to put on more pounds you'll be better off with a larger sandbag.  One that comes with extra room, adjustable weight, and many filler bags options.
The Size and Dimensions Of The Sandbag:
I've seen sandbags that can hold up to 50 pounds but the filler bags cant fit in to make that weight happen. You have a bag that has a weight potential of 50 pounds but you can fill it up only with 30 pounds of sand.
That could be a real deal breaker.
Though, over time once the sand settles down and take its shape, that sand gets compressed. Basically, the sand takes less volume. You'll have extra empty bag space for proper weight distribution.
That offers more flexibility and you are training with more user friendly bag.
Picking the right size of sandbag is important. This correlates with the type of the weight and strength training you'll be doing and your body height as well.
Some bags come with larger handles. If you are shorter than the average height, you may find the bag inconvenient. In most cases while doing specific exercises you may hit the ground.
To name a few: bent over row, deadlift, sandbag swing, or rotational lunge. Even with the slightest body bent, that sandbag could be touching the flooring.
Furthermore, large but half empty sandbag is another problem. If you fill it with less weight it can feel floppy and you'll struggle to hold it still. Trust me I've been there. Not cool.
Choose the maximum weight based on your fitness level.
Working out with a sandbag is definitely challenging. Going with reasonable weight and bag size is advisable.
Filler Bags:
The filler bags (or liners) are being advertised as rock solid. Yet, that's not always the case. The manufacturers have done a serious quality work with the sand closures. They use seals with strong velcro.
But, when we talking about the quality of the filler bags it all comes down to – "You get what you pay for".
That said, if you are looking for inexpensive sandbag be ready to face sand leakage.
Good news is you have another layer of protection. That's the outer bag. At least you may not experience sand spilling all over the floor.
It will happen inside the bag.
I already discussed that one great solution for me was to reinforce the seal with a heavy duty duct tape.  Alternative is to grab a zipper bags from Walmart or your local store, and stack your liners there.
Problem solved.
Will the filler bags come filled with sand?
In most cases, no. You have to buy the sand separately. Sand is cheap. Compare that to gym membership or buying fitness equipment. It will cost you around $5 to get like 80-100 lbs sand from Home Depot or your local home improvement store.
The type of the sand matters as well. There's a huge difference between using construction sand vs beach sand. Or leveling sand vs play sand. Make sure you're using debris free and dry sand because moist and sharp objects could be a real issue.
But there's another challenge.
To seal and secure the ziplock bags enough and keep the velcro clean from dirt, you need a quality sand.
Also, as an alternative to sand, you may use aquarium gravel or rocks, rice, or crushed stone and pebbles.
Yet, the downside is that you may find beating yourself when the bag hits you.  Especially when doing overhead exercises or fast movement based exercise.
It's like the "bag strikes back" scenario ?
Crushed stone, for example, could be also rough on your shoulders.  Also, stone doesn't offer the same experience as when the sand shifts naturally. Shifting causes instability and forces your body to learn and adapt.
Bottom line, you can try both sand and aquarium gravel and see what works best for you.
The Bag Handles – How They Are Made and The Grip Positioning:
Each brand offers versatility of gripping option and handle positioning. Some handles might feel more robust and rough for your hands, others more softer. But that's an issue for every first time sandbag user. Over time you'll build stronger grip and the fabric won't feel that heavy on your hands.
Rubber grips are one of the toughest to work with, at least for me.
Yet, others find them quite comfortable.
The more handles the bag has the more types of exercises you can perform. The quality and good padding plays a major role. You'll be using the handles more often, rather than grabbing the bag. As your body shifts the pressure of the weight will be exactly where the handles are sewn.
Having a quality bag handles is of utmost importance. If the handles are of poor quality doing your favorite exercise may come as a challenge.
Do you happen to have a bigger hands? If so, you are probably wondering if the bag handles would fit into your hands.
You are not alone.
If it gets tight, you are more prone to injuries. You are facing lack of mobility, flexibility and natural wrist movements. But most importantly you're blocking the blood circulation.
In that case you want to buy a larger sandbag that comes with larger handles, so you don't get stuck there. Also, make sure that the fabric is smooth enough and of good quality, such as Cordura 500D or Cordura 1000D.
Adjustable Weight and Total Weight Limit:
Pick the desired weight based on your actual strength level.
Most sandbags have pre-weighed filler bags. You can set and adjust the weight based on your fitness ability and the type of the workout.
The sandbag weight limit correlates to the fitness category you fall into.
There are bags for beginners and recreational home training individuals. As well as sandbags for more advanced user. Such as sport athletes, crossfitters, MMA fighters and other fitness professionals.
If you are a first time weightlifter you can test your strength skills at home or in the gym to see where you fit in. It's always advisable to start with smaller weight and improve your strength over time.
When it comes to adjustable weight fitness gear, there are always pros and cons.
I briefly touched the downside of buying a sandbag that comes with 4 pouches, where in reality you can only fit 3.  Even when fully loaded, the bag will feel like it's going to break anytime.
The purpose of the sandbag training is for the sand to be able to shift inside the bag. That allows more comfortable workout session. But at the same time the lifting is harder due to its center of mass.
Having the sand stuck in a fixed position is not the point. So keep that in mind when looking at the weight limit and the size of the sandbag.
It's better to leave an empty space in each filler bag. Instead of 70 pounds, you'll end up with 62 pounds. That way, you'll leave that extra space at the top, and prevent possible breakage.
Also if you fill the inner bags up to the top, taking them in and out during your sandbag training can come as a challenge.
No one wants to spend 20 minutes loading and unloading the filler bags in the middle of the workout. Quick weight change between sets is a must for great training experience.
Bottom line, do your math for each exercise you'll be doing to see which option suits you the best.
You can use a simple piece of paper and make two columns. One for the type of the sandbag training exercise you'll be doing. And another column for the total weight you can handle.
What is Cordura And Why You Should Care?
In this article, you'll find that we use the term Cordura quite often.
Let me explain.
Cordura is a military nylon fabric able to withstand various tough conditions. This piece of fabric has an amazing resistance to fading, water, sweat, abrasion, rot and mildew.
The main differences between a regular duffle bag and a sandbag is the quality of the material, the construction, and the actual manufacturing process.
The most quality workout sandbags are pricey. They use the best quality fabric also known as Cordura 500D and Cordura 1000D.
That's one of the main reasons why a quality sandbag is resistant to dragging, pulling, and tossing.
Bottom line, if you want quality product check the fabric used in these sandbags. If they use Cordura in their production process you are safe.
Final Words
Remember, when choosing a workout sandbag pick the one that you feel best fits your fitness level, your budget and your lifestyle.
Fitness sandbags are so popular because they are easy to use and store. Most are affordable and portable. They are one of the top pieces of unconventional equipment that can replace an entire gym.
If you have a favorite model and a recommendation, or any questions, please let us know in the comment section.